Marketing Automation in BitFaster
BitFaster Alerts is a brand new feature in BitFaster. It allows you automate your Marketing efforts.
There are 3 types of Alerts supported by BitFaster: Email, SMS and Data Transformation.
Unlike other transactional messaging systems/applications, BitFaster Alerts works from within your network. It can connect to any CRM/ERP database (like Salesforce or Microsoft CRM) or Excel worksheet that's available on your network or even from the Internet. This helps you safeguard your data. There are no APIs to connect to nor is there any data that needs to be uploaded to third party servers.
Please Note: If you have Office 2016 and are experiencing issues connecting to an Excel file, please download and install the "Microsoft Access Database Engine 2010 Redistributable" from Microsoft website:
https://www.microsoft.com/en-us/download/details.aspx?id=13255
You can either watch the YouTube video (Implement SMS Automation Using BitFaster Alerts) or you can read through the step-by-step tutorial below.
For illustration purposes, we will use a fictitious company named Best Car Service Center (BCSC). This company wants to send out SMS to its customers as and when a car is serviced and ready for pickup.
Current Setup
Let's start with the assumption that BCSC has an application used for maintaining customers and their service details. To keep it simple, let's say it uses Microsoft Access as the backend database. Now let's see how we can configure an Alert in BitFaster to achieve their goal.
Step 1 - Create a Connection String
Before you can connect to the database, you need to tell BitFaster a few things about the database itself like the Provider, file location etc. You can ask your System/Database Admin to help configure in case you find it difficult.
To add a new Connection String, do the following:
Click on Connection Strings in the tree view under Automation (screenshot below)

Right click on the right window pane and choose New Connection String

Enter the Connection Name and Connection String fields and click on Add
Since we are assuming that we are connecting to an Access database (2007 and above format), you can use the Connection String as below:
Provider=Microsoft.ACE.OLEDB.12.0;Data Source=D:\BCSC\BCSC.accdb;Persist Security Info=False;
You just need to replace the path mentioned in the Data Source parameter above to suit your requirements. The Connection Name field is for your reference; you can give it any name up to 100 characters in length.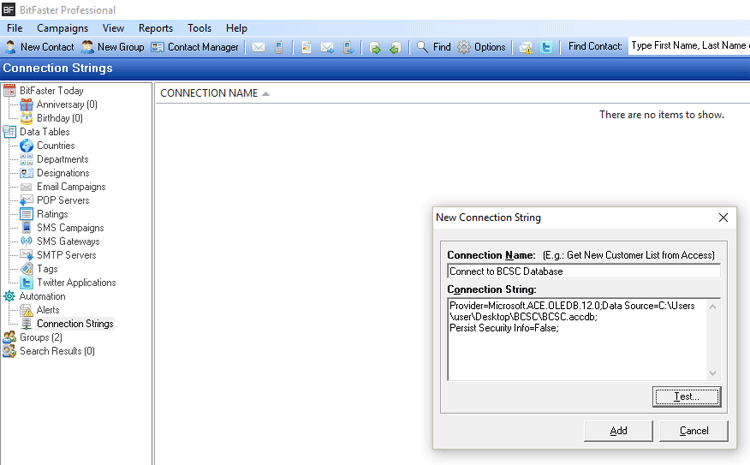 Make sure you click on the Test button to see if there are any errors before you Add the record.
Step 2 - Add an Alert
Once you have created a Connection String, click on Alerts in the tree view under Transactional Messages. Now right click on the right window pane and choose New Alert.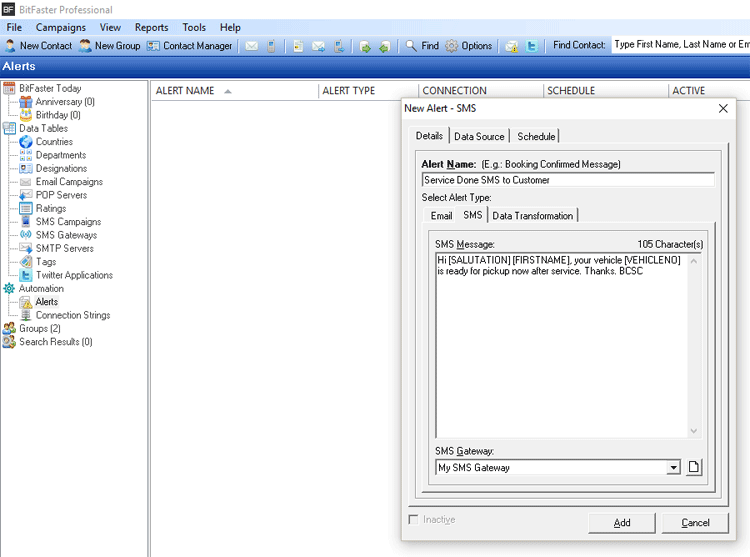 In the Details tab, specify the Alert Name (up to 100 characters). You can then choose the Alert Type (Email, SMS or Data Transformation). In this case, we will choose SMS.
Now enter the SMS message that you wish to send. This can include personalization. BitFaster Alerts allows you to use any field name in your database as a personalization variable.
For instance, you will notice variable names such as [FIRSTNAME] in the screenshot above. This is a field name in your database. In BitFaster Alerts, all field names used for personalization follow simple rules as mentioned below:
Any other special characters in your field names are used as it is. For example, if your field name is "Customer Name" (with a space), your personalization variable will be [CUSTOMER NAME].
For the sake of clarity, you can see the screenshots below which show the table structures within the BCSC database. Any of these fields in the 3 tables can be used for personalization (create a JOIN if required).
| | | |
| --- | --- | --- |
| | | |
We are assuming that you already have an SMS Gateway defined. You can use any SMS Gateway that supports HTTP/S Protocol/API. For more details on how to use the SMS Gateway, please refer to BitFaster Help files.
In the Data Source tab, you have to select the Connection String name (created in Step 1) and enter a "Select" SQL statement which will query the database and extract records. The SQL statement we will be using is:
Select sm.id as ServiceRecordID, cm.Salutation, cm.FirstName, cm.Mobile, vm.VehicleNo from customer_master cm, vehicle_master vm, service_master sm where
cm.id = vm.customerid and
vm.customerid = sm.customerid and
vm.id = sm.vehicleid and
sm.servicedate = date() and sm.smssent = false
Please consult your Database Admin or the Developer to get the correct SQL statement.
The above SQL statement joins the 3 tables (mentioned above) and retrieves all records where the ServiceDate is "Today" and the SMSSent column is "False" (Not Sent).
Now click on the Run Query button. If your SQL statement is correct/validated (even if there are no records retrieved it's ok), you should see the "Select Field for SMS communication" drop down enabled with the list of fields/columns shown (refer to screenshot below). You have to pick the right field which contains the channel for communication (in this case Mobile).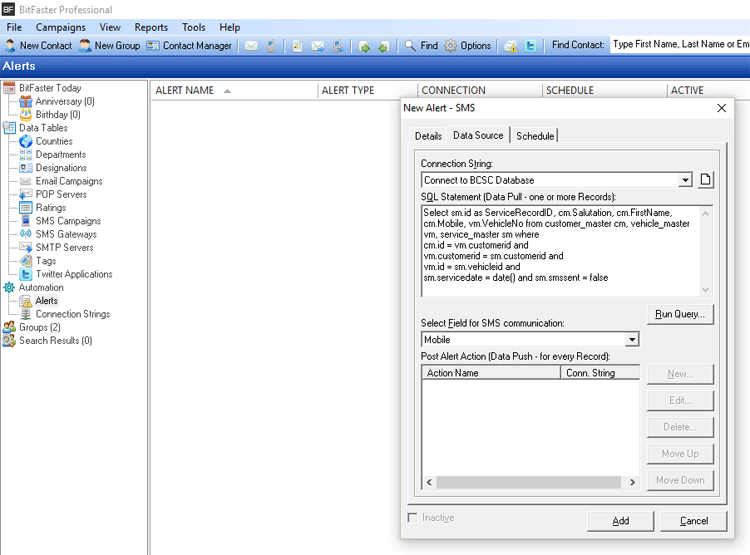 Please Note: Post Alert Actions cannot be defined in Add mode. You will have to add the Alert and then manage the Post Alert Actions in Edit Alert mode.
Once this is configured, click on the Schedule tab. You just have to select the frequency at which BitFaster should connect to the database and check for any new records. Let's keep it at 5 Minutes.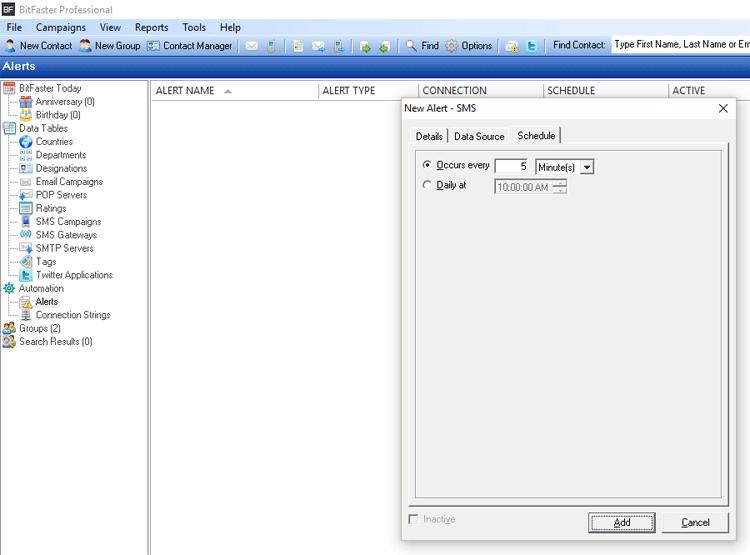 Now click on the Add button to create the Alert.
We have to remember just one more thing here...the Post Alert Action. This is required because if we don't update our Access database and set the SMSSent field to True (after sending the Alert SMS), BitFaster will continue to send duplicate messages after every 5 minutes.
To edit an Alert, click on Alerts in the tree view under Automation and then double click on the Alert Name in the right window pane. Then click on the Data Source tab.
In the Post Alert Action section, click on the New button.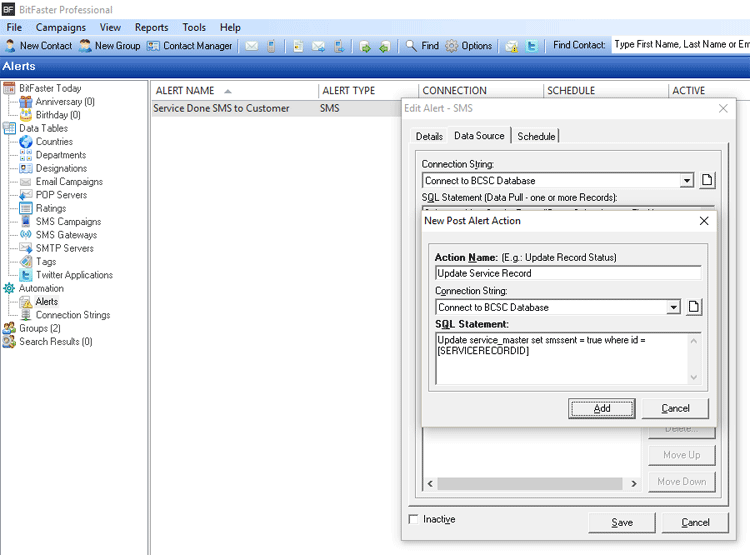 The Action Name field can be up to 100 characters. Since we are updating the same database, you can select the same Connection String name from the drop down. The SQL statement field is where you will input the SQL that will update the required table(s). In this case, we have to update the table "service_master" and set the SMSSent field to True for each record. We have a field called ServiceRecordID which is actually the ID from the service_master table.
Update service_master set smssent = true where id = [SERVICERECORDID]
Click on the Add button to add the Post Alert Action. Now whenever BitFaster sends out the SMS, it will automatically update the record in the Access database.
Step 3 - The Alerts Manager
Alerts Manager is the application that actually manages all the Alerts you have defined in BitFaster. To start the Alerts Manager, from the Tools menu in BitFaster select Alerts Manager.
The Alerts Manager displays a list of all the Alerts you have defined and are Active (number of Alerts shown will depend on your BitFaster Results account). It automatically displays the Next Run Time and triggers the Alert depending on the Schedule you have configured. It manages all the 3 types of Alerts.
Please note that alerts are not triggered if this application is closed. We suggest you keep this window open at all times.